Rod Understanding Weather
Rod Machado's "Understanding Weather"
Gain a true understanding of weather in a way only Rod Machado can deliver. This course makes weather concepts fun, and fills an important knowledge gap for pilots.
How often have you launched on a flight with a feeling of concern or uneasiness, even after completing a detailed weather briefing. You reviewed the online weather tools, but did you really understand what they were telling you? This is especially concerning when the weather is marginal, because then the answers aren't so clear – go/no go, continue/divert, climb/descend…this is when real weather knowledge is so valuable.
Unfortunately, too many pilots lack the in-depth weather knowledge to draw upon in these situations. They can read a METAR or TAF, but they can't read between-the-lines, and aren't sure if conditions will get worse, stay the same or improve…regardless of what the forecast says. This lack of understanding leads to uncertainty, which leads to anxiety and ultimately impacts a pilot's decision making.
Rod created this online program to make learning about weather more enjoyable. And unlike dry textbooks and ground schools, it delivers real results. You will feel comfortable with weather concepts that are so important for pilots. And ultimately, you will make better decisions on the ground and in the air.
eLearning Format Makes It Fun
Weather theory can be dull and boring, and as a result remains a hole in many pilots' knowledge. Rod's interactive eLearning course offer laughs and "lightness" that will help you learn without the usual pain.
Each course is narrated and accompanied by interesting videos, graphics, animations and educational interactions. Each section within a course includes questions to help test your knowledge and reinforce important concepts. Of course, if questions aren't your thing, then simply skip them and continue with the course.
This course was designed to be used on an iPad, Android tablet device, laptop or desktop computer. While it can be viewed on an iPhone or Android phone, the graphics would be difficult to see (unless you're an ant).
America's Favorite Flight Instructor
Rod Machado
Rod Machado has taught millions the basics of flying through flight lessons, simulation and training materials. Teaching and speaking to pilots in the 50 states and Europe since 1973, he simplifies the complex, makes bland topics interesting and educates with humor.
Flying since age 16, he is a rated ATP with all fixed wing Flight Instructor ratings, he was AOPA's National Flight Instructor Spokesman and a columnist for AOPA Pilot and Flight Training magazines for many years.
Rod Machado's Private Pilot Handbook and Instrument Pilot's Handbook are used to train pilots in respected Universities, Flight Schools, FBOs and High Schools throughout the country.
What Pilots Need To Know About Weather
In this course, Rod distills an unmanageable volume of weather theory into a practical course that focuses on key concepts important to pilots.
He covers the building blocks, or various elements that make up our weather. He then explains how they interact together to create the conditions we encounter every day. Throughout the course, Rod uses real examples to help you remember important weather concepts.
Short, focused videos cover these weather topics:
Frequently Asked Questions
Q. How do I access this course?
A. The course is available online via a secure, password-protected website. You can watch the videos on Windows PC, Mac, or iPad/Android tablet.
Q. Will my online access ever expire?
A. No. Once you register your login credentials, they will never expire. You will always have access to the program. (We still provide online access to programs we initially offered in 2006.)
Q. Can I download these files onto my iPad?
A. Yes, we provide step-by-step directions. Of course, you can view the videos online on your iPad with an internet connection, so downloading them is optional.
Q. Can I access the course from more than one computer or device?
A. Yes – with your login info, you can access the site as often as you want.
90 Day 
Money-Back

 Guarantee!

If you aren't completely satisfied we'll give you a full refund. No questions asked!

PilotWorkshops.com has been a A+ rated member of the Better Business Bureau since 2006.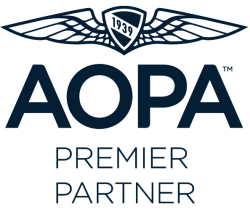 AOPA Premier Partner
PilotWorkshops is proud to support AOPA and its membership in their mission of advancing the growth and safety of general aviation.