Flying Companion – A Pilot-Friendly Manual Free

Free: A Simple Manual For Your Flying Companion
50 Useful Tasks a Non-Pilot Can Complete For You Before, During and After a Flight
Task-oriented format – what they can do when and how

Simple, step-by-step instructions to complete each task

Fully illustrated with color photos and graphics

Table of contents makes it easy to find what they need

Written in Plain English; not acronyms or pilot jargon

Packed with useful tips and information for non-pilots

Spiral bound for convenient use in the cockpit

Bonus PDF version to view on your favorite mobile device

Makes a great gift for your favorite passengers
It Gets Your Flying Companion Involved (and Comfortable)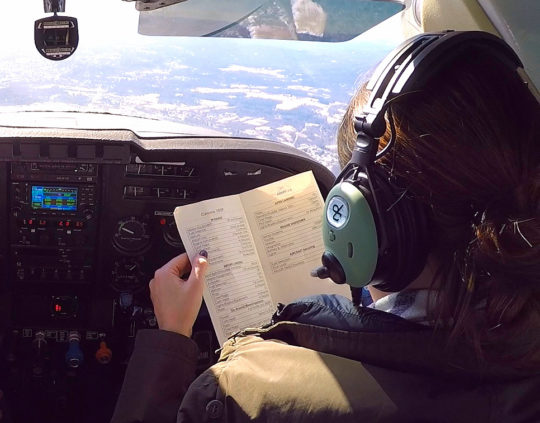 Quite often, our non-pilot flying companions feel like helpless passengers. They may be intimidated watching you juggle an endless stream of tasks right next to them in the cockpit. They'd love to help you…they're just not sure how.
That's where this manual comes in. It's written in a hands-on and practical style. The goal is to help your flying companion (typically a spouse or friend who flies with you regularly) feel more comfortable in the right seat, and let you offload simple (but useful) tasks that they are perfectly capable of handling for you. It gives them a far greater understanding of the things that seem normal and comfortable for pilots—before, during and after the flight.
By involving your flying companion in the flight, you'll not only get much-needed assistance, but they'll enjoy flying with you even more. You'll instill in them a sense of pride that comes with helping you plan and accomplish a safe and enjoyable flight.
Step-By-Step Instructions Ensure Tasks Are Done Right
If you're going to give tasks to your flying companion, you need to be sure they are accomplished properly (no matter how small the job). To ensure nothing slips through the cracks, we provide detailed instructions that not only show them how to do it, but explain why they are doing it and how to check that it's complete. Your companion will learn about checklists, aircraft systems, traffic patterns and many other concepts that will make them feel like part of the flight.
They don't have to memorize the manual but can keep it with them and refer to it as needed. Start by giving them tasks they are interested in or feel comfortable doing. Over time, they can help you with more items as their confidence builds. You can decide what tasks to give them and the manual will tell them exactly what to do.
In addition to being another set of eyes and ears in the cockpit, they can help you plan and prepare for the flight. You can see the complete list of tasks in the table of contents below.
Frees You Up To Focus On Important Tasks
When you step back and analyze all the things you need to do during the course of a routine flight, you'd be surprised by how many items could be offloaded to a passenger if they are properly trained to help you.
Let's be clear: we're not suggesting that your passenger land the airplane or fly an instrument approach. However, they can perform functions that will lighten your load. Things like getting weather updates or finding a frequency, although simple, can lead to task saturation if your workload is already maxed out. Your companion is more than capable of doing these things if they are taught how.
We were careful in selecting tasks that could easily be accomplished by a non-pilot without jeopardizing safety. Some companions will be more ambitious than others, but any task you can offload will help reduce your workload, and that's just good CRM.
Check Out These Samples From The Manual
Frequently Asked Questions
Q. Why free? Is this the same version you were selling for $49?
A. It is the exact same version. During this promotion we are giving away a small supply of color printed manuals for free, while supplies last, as a way to introduce you to our Pilot-Friendly family of manuals. Note that a modest shipping charge will be added at checkout.
Q. How long will it take to receive my printed manual?
A. We use the US Postal Service to mail all USA orders and they usually arrive within 5 business days. International orders usually arrive within 10 business days (can be longer in some countries).
Q. Do you offer a digital version I can load onto my iPad?
A. Yes, when you order the manual, we will also include a digital PDF that is formatted for your iPad, computer or any other mobile device. You will receive your PDF copy as soon as you order. We provide simple instructions for loading the PDF onto an iPad.
Q. How big is the manual?
A. The manual is 8 1/2 x 11 inches and 65 pages, so it will fit in most flight bags or in the seat pocket of an airplane. We found this size worked well with our other Pilot-Friendly manuals…big enough to be easy-to-read, but small enough to store just about anywhere. It also has a clear plastic cover to protect it from weather and spills.
Order Today — Free While Supplies Last
You'll Get The Printed Book, Plus A PDF Version For Your Mobile Device
• Just pay $7.50 shipping (in USA)
• Limit one book per customer
• Makes a great holiday gift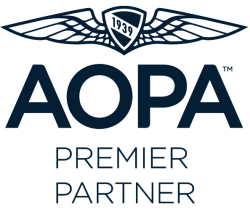 PilotWorkshops is proud to support AOPA and its membership in their mission of advancing the growth and safety of general aviation.