Mastering Cross-Country Flight
Now Free During This Special Offer:
Planning and Executing Long Flights
Watch detailed flight briefings, long cross-country flights, and no-holds-barred debriefs. Learn from experience.
You can read the details below – or simply register and get instant, free access.
Long, Cross-Country Flights Are Challenging…
…especially when you are flying beyond well beyond your home airport.
The topic is rarely taught after your solo cross-country.
New areas are unfamiliar, and larger airports are more complex.
You encounter ATC instructions you don't often hear. And you may need to negotiate.
WX planning is critical as range increases.
Advanced use of tools like your GPS nav and ForeFlight become more important.
Briefing the flight incorporates more variables, and requires more planning.
How are you supposed to learn or refresh these skills? These real-world skills aren't specifically taught in ground school. BFR's and IPC's rarely cover the specifics of long flights.
YouTube videos can be hit or miss; because how do you know you are getting correct info when there's no CFII review process?
In fact, the best way to build or review these skills is through practical experience, with an experienced pilot to guide you along the way, sharing tips and techniques helpful to long-range flying. But that's not always practical.
Introducing Real World Coast to Coast
Real World Coast to Coast is a 35-video training course that bridges the gap between classroom/book learning and actual flight.
Most of us don't have the opportunity to fly across the country with an instructor in the left seat. This is the next best thing.
This series of edited, and captioned videos gives you a "left seat perspective", flying along with experienced pilot Keith Smith as he journeys across the country. Unlike scripted training programs where everything is under control, in Real World Coast to Coast you see what Keith sees, hear what he hears on the radios, and go through the process of planning for each leg.
Being able to ride along with a proficient pilot who is explaining everything as it happens, each step of the way, provides a great learning experience for anyone who wants to fly longer trips with their airplane. Keith provides detailed briefings and debriefs for each flight. He makes extensive use of ForeFlight so you can see how he uses it and maybe discover a few shortcuts you weren't aware of.
Builds Real-World Skills for Long Flights
See and learn from long flights planned and flown across the country.
Watch an experienced pilot accomplish, and narrate:
A series of challenging IFR and VFR flights
Long-range, cross-country flight planning
ATC Communications – IFR and VFR (with captions throughout)
A variety of reroutes and diversions
High-altitude mountain crossings
Radio communication problems in IMC
IFR legs through complex NY and LA airspace
VFR over the Grand Canyon at dusk
A high-density-altitude landing and departure
Fun at LAX: STAR in, SID out (and a flat tire)
Heavy use of ForeFlight, Stratus and ADS-B (live on-screen)
Turbulence from winds, mountains, and heavy rain
Various "special flight rules area" transitions
Fatigue, hunger, stress, and potential hypoxia
Breathtaking scenery across the USA
And much more!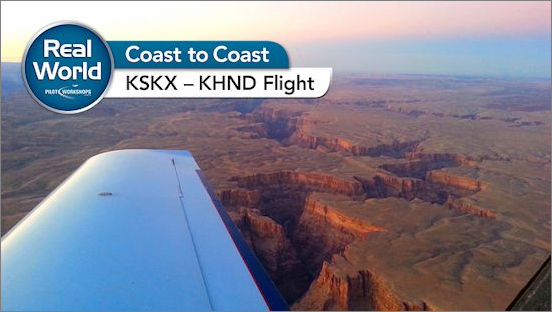 On the next screen you'll either create a password, or log in if you already have a PilotWorkshops account, and you'll get instant access to the entire course.
We'll also email you the Pilot's Tip of the Week. We respect your privacy and do not share your information.

WINGS Approved!
You can earn 6 WINGS credits for completing Real World Coast to Coast: 2 basic, 2 advanced and 2 master. A simple online form for requesting credit is included on the website.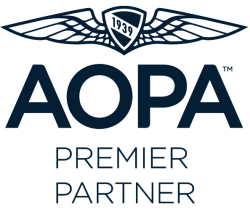 AOPA Premier Partner
PilotWorkshops is proud to support AOPA and its membership in their mission of advancing the growth and safety of general aviation. Your support helps.