Planning and Executing Long Flights
Experience long-range IFR and VFR flying like never before with a left seat view of this journey from New Jersey to Southern California and back that both teaches and inspires.
You can read the details below – or simply register and get immediate, free access.
Long, Cross-Country Flights Are Challenging…
…especially when you are flying beyond familiar areas.
Topic is rarely taught beyond your solo cross-country.
Unfamiliar, and larger airports are more complex.
ATC instructions you don't often hear. And often a need to negotiate.
WX planning becomes more  important as range increases
Briefing the flight incorporates more variables, requires more planning
Use of tools like your GPS nav and ForeFlight become more important
How are you supposed to learn or review all of this? These real-world skills aren't specifically taught in ground school. Where can you see a pilot talk you through situations like these as they happen, in airports and in the sky all over the USA? How are you supposed to learn or refresh your skills?
Get this before you need it, so you're ready for your next long flight to an unfamiliar destination.
Build Real-World Skills for Long Flights
Fly along on this epic, coast-to-coast adventure.
Watch an experienced pilot accomplish, and narrate:
A series of challenging IFR and VFR flights
Long-range, cross-country flight planning
ATC Communications – IFR and VFR (with captions throughout)
A variety of reroutes and diversions
High-altitude mountain crossings
Radio communication problems in IMC
IFR legs through complex NY and LA airspace
VFR over the Grand Canyon at dusk
A high-density-altitude landing and departure
Fun at LAX: STAR in, SID out (and a flat tire)
Heavy use of ForeFlight, Stratus and ADS-B (live on-screen)
Turbulence from winds, mountains, and heavy rain
Various "special flight rules area" transitions
Fatigue, hunger, stress, and potential hypoxia
Breathtaking scenery across the USA
And much more!
Register for Free Access and Be Ready for Your Next Long Flight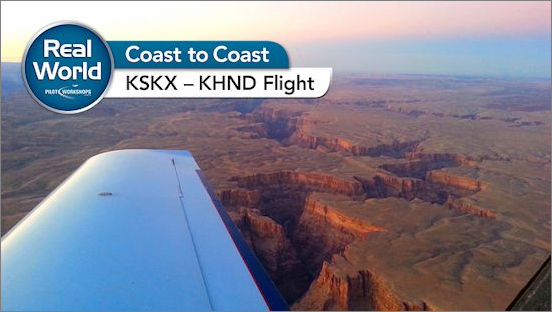 On the next screen you'll either create a password, or log in if you already have a PilotWorkshops account, and you'll get instant access to the entire program.
We'll also email you the Pilot's Tip of the Week. We respect your privacy and do not share your information.

WINGS Approved!
You can earn 6 WINGS credits for completing Real World Coast to Coast: 2 basic, 2 advanced and 2 master. A simple online form for requesting credit is included on the website.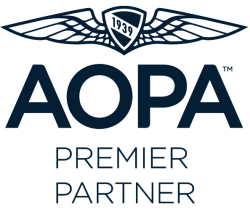 AOPA Premier Partner
PilotWorkshops is proud to support AOPA and its membership in their mission of advancing the growth and safety of general aviation. Your support helps.