Real World Coast to Coast free Short
Real World Coast to Coast
Register now to get the entire course for free during this special, limited offer.
"Real World" – Experience Is The Best Teacher
The goal of Real World Coast to Coast is to place you in the left seat and let you experience every aspect of these challenging cross-country flights first-hand, from the pilot's perspective, and with more structure and educational content than you would find in a typical YouTube video.
Follow experienced pilot Keith Smith through a series of cross-country flights that are captured on HD video cameras. You'll also watch him plan each flight with a detailed briefing (using ForeFlight) and then debrief after landing.
As you fly along, Keith talks you through each task and procedure as he completes it. You'll hear all of his ATC interactions so you'll know the proper phraseology to use on both IFR and VFR flights. There are no shortcuts! You follow the flights in near real time from engine start to engine shutdown.
Learn From This Cross-Country Journey
A series of 16 challenging IFR and VFR flights
Long-range, cross-country flight planning
Debrief videos share tips and lessons learned
ATC Communications – IFR and VFR
A variety of reroutes and diversions
High-altitude mountain crossings
Radio communication problems in IMC
IFR legs through complex NY and LA airspace
VFR over the Grand Canyon at dusk
A high-density-altitude landing and departure
Fun at LAX: STAR in, SID out (and a flat tire)
Heavy use of ForeFlight, Stratus and ADS-B
Turbulence from winds, mountains, and heavy rain
Various "special flight rules area" transitions
Fatigue, hunger, stress, and potential hypoxia
Breathtaking scenery across the USA
And much more!
You'll See It All: Briefings, Flights, and Debriefs
Keith walks you through every detail of his flight planning in ForeFlight.
If you've wanted to use your airplane for long-range business or personal travel but lack the experience, this program gives you the confidence needed to take your flying to the next level.
Briefings: Keith conducts a detailed briefing before every flight—and we caught them all on camera, including a complete screen-capture of his iPad running ForeFlight! This is one of the most instructional aspects of the entire program.
Watch him brief all critical aspects of the flights—the weather, route, winds, NOTAMS, airports, airspace and more. By watching him brief this on many consecutive flights, you'll learn to look at an overall flight and quickly drill into the areas that require a more detailed investigation. This kind of briefing efficiency will help you feel comfortable tackling longer trips.
See and hear everything Keith does.
Flights: The flights were recorded in real-time using two HD video cameras mounted on Keith's head and chest to show his view outside and on the instruments. We also captured his iPad throughout the entire flight so you can see what Keith is seeing in ForeFlight, in the air.
This gives you the ultimate "first-person" feel as you are riding along with him, hearing all of his ATC communications as well as his commentary on what's happening throughout the flight. Having only two cameras allowed Keith to make the trip alone, without a camera crew…adding to the real-world feel.
Debriefs: Keith debriefs every flight on camera, providing a self-assessment of his performance and an occasional confessional when things don't go as planned. These debriefs are shot immediately after the flights—at the airport, FBO, hotel room or on the ramp. This is a great way for Keith to recap the critical teaching points and lessons learned on each flight.
Free Course Registration - Instant Access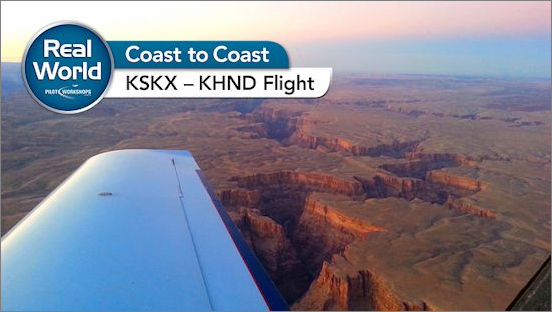 Experience long-range IFR and VFR flying like never before with a left seat view of this journey from New Jersey to Southern California and back that both teaches and inspires.
On the next screen you'll either create a password, or log in if you already have a PilotWorkshops account, and you'll get instant access to the entire program.
We'll also email you the Pilot's Tip of the Week. We respect your privacy and do not share your information.

WINGS Approved!
You can earn 6 WINGS credits for completing Real World Coast to Coast: 2 basic, 2 advanced and 2 master. A simple online form for requesting credit is included on the website.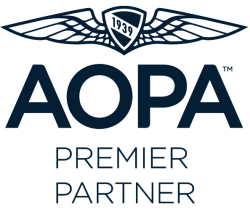 AOPA Premier Partner
PilotWorkshops is proud to support AOPA and its membership in their mission of advancing the growth and safety of general aviation. Your support helps.